Hi there! Some links on this page are affiliate links which mean that, if you choose to make a purchase, I may earn a small commission at no extra cost to you. I greatly appreciate your support!
Building responsive mailing lists is one of the most important aspects of growing a successful business (in addition to your prospect list and your list of purchasers). For the sake of this lesson, we'll concentrate on the process of creating a prospect list from scratch. Take a look at the following:
1. Craft an Enticing Lead Magnet

The first stage is market research to determine what your target audience wants. You may accomplish this by looking at marketplaces such as Udemy.com, ClickBank.com, and Amazon.com to discover what kind of information items people are currently purchasing and selling. In your niche, look for bestseller items available in various variations on the same topic, both of which are indications of a product's popularity.
It is important to note that the goal here is to determine what TYPE of goods people are purchasing, but then to produce something NEW. To put it another way, don't replicate anyone else's product. Instead, develop a product on the same issue that incorporates your unique perspective, advice, and facts, as well as your fresh perspective.
2: Obtain Prospects
The following step is to design a lead generation page that will allow you to begin collecting information from your visitors. You'll need two items for this:
Email Service Provider (ESP)
You can rely on an autoresponder (e.g., AWeber, GetResponse, ConvertKit, iContact, Mailchimp, or similar). To create a mailing list and embed an opt-in form into your lead page, follow the guidelines provided by the company.
Copy that will draw people to your lead page. If you are not experienced with the process of creating benefit-driven sales copy, you might consider hiring an expert to assist you. Search for copywriters on Google or post a job on a freelancing website such as UpWork.com to attract applicants.
3: Create a Series of Follow Up Emails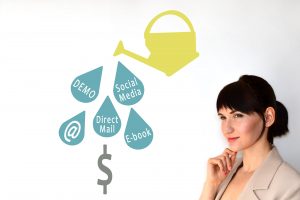 Lead-Nurturing
Every email you send (from your initial autoresponder series through all live broadcasts) should be designed to help you establish relationships with your audience and sell more of your products or services. Following these suggestions can assist you in achieving your goals:
Provide information that is both relevant and insufficient. Providing relevant information to your subscribers will assist you in developing positive connections with them while providing "incomplete" information will provide you with a chance to sell the remainder of the solution on the backend.
For example, you might offer extremely nice and practical marketing recommendations at the beginning of the email and then sell a marketing guide at the conclusion.
One deal should be promoted per email. That will assist you in increasing your conversion rate.
Make a series out of it. Generally speaking, people don't buy a product the first time they hear about it. You should send three to five emails for each product you're marketing, which will ensure that you reach as many people as possible.
For example, suppose you're selling a marketing guide. In that case, you may send out a three-part series titled "The Three Keys to Marketing Your Business Online" to prospective customers. Each email would contain one important key, followed by a promotion for the offer at the end of the message.
Conclusion
These are the actions to take to build a responsive list:
Offering something people truly desire in return for their email address is a good way to get people's attention.
Sending out extremely helpful information regularly will ensure that consumers continue to check email messages from you.
Making money is as simple as marketing offerings that you know your audience will enjoy once you've built a responsive list of subscribers. Take action and put this information to use as soon as possible to begin growing your mailing list of prospects!